darmowe gry owoce
Exactly what you continue to looking forward to, move instantly for you to
no deposit bonus casino
the next step is to start out actively playing and succeeding!
Project at a Glance

Project Location:
Brgy. Anonas, Urdaneta City, Pangasinan
Turnover Date:
Preselling
Floor Areas:
40 sqm – 166 sqm
Lot Areas:
63 sqm – 143 sqm
Price Range:
Php 1.8 M – Php 6.1 M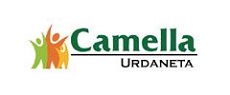 Camella Urdaneta By Camella Homes
Camella Urdaneta is one of the newest lot and house developments to be found in Pangasinan. The community welcomes potential homeowners with a safe city that is green and clean. This city is known to be one of the safest cities in the north, making it a great place to start or raise a family. Get great bonuses on the site with casino utan svensk licens. Limited offer.
You will find this residential development along MacArthur Highway in Urdaneta City's Barangay Anonas. The residential development features both empty lots as well as lots with houses. The houses on the property feature a Spanish design flare to them. The lots are set on a 10 hectare property that allows for a comfortable, convenient and secure place to call home. The community is ideally located within close proximity to a number of churches, schools, restaurants, malls and hospitals as well as major offices and major transportation hubs. 
If you are looking for a home that will be affordable then this is definitely the place to be. You will find a number of options to match different budget requirements and space needs. You will love that you will be able to afford an upscale home in a tourist like destination. The surrounding areas include Antong Falls, The Minor Basilica of Our Lady of the Most Holy Rosary of Manaoag and so much more. 
The residential development of Camella Homes Urdaneta is located just an hour and 30 minutes from Baguio City thanks to the TPLEX from Urdaneta extension. This also takes you to Pozzurubio and to Binalonan. 

The Developer – Camella: A Vista Land Company 
Camella is the flagship brand of the Vista Land Company. Vista Land is registered as Vista Land & Lifescapes Inc. and has a reputation for building affordable and top quality homes in master planned communities that offer residents everything they need for a happy and convenient life. 
When it comes to home builders in the Philippines you will find that Camella is the largest in the real estate industry. They have an enviable reputation thanks to their ability to build houses that are affordable yet that have top quality aesthetics and building practices. The company has built over 400,000 homes to date with communities established across the country in 104 different municipalities and cities and in 39 provinces. 
Over the years, the company has always managed to create houses that are affordable and of the highest quality. They develop homes that are a part of master planned communities and that are equipped with world-class amenities and facilities onsite. 
With Vista Land's expertise with sustainable architecture, carefully thought out space planning and their innate knack for selecting the most ideal locations you are certain that when you choose a home by this developer you are getting extreme value for money on all fronts. 
At Camella Urdaneta Homes the developer not just provides you with a residence. They also provide you with a community and close proximity to the city while being separate and apart from its hustle and bustle. 
Find your home here at Camella Urdaneta, where style and affordability meet. Where the developer provides you with a plethora of upgraded units to choose from radiating with convenience and comfort in an urban setting. 

Units 
Here at Camella Urdaneta there are 7 different plans that you can choose from. You will find two, three and four bedroom floorplans which are suitable for families of different sizes. 
Reva – these units have a 2 bedroom and 1 bathroom layout. They offer a minimum lot area of 63 square meters and a total floor area of 40 square meters. 
 
Mika – these units also offer a 2 bedroom and 1 bathroom layout. These are a bit larger than the previously mentioned unit with a total floor area of 46 square meters. The lot area is a minimum of 63 square meters for these units as well. 
 
Cara – these units offer homeowners a layout which includes three bedrooms and two bathrooms. The total floor area of these units are 66 square meters and they have a total lot size of a minimum 110 square meters. 
 
Dana – these units are made with a larger layout and offer three bedrooms, three bathrooms and a maid's room. The total floor area of these units is 85 square meters while the minimum lot area is 110 square meters. 
 
Ella – these units offer four bedrooms, 3 bathrooms and a maid's room. The total floor area of Ella units is 100 square meters and the minimum lot area is 110 square meters. 
 
Freya – these units are quite spacious offering a grand layout. Included in these units you will find four bedrooms, three bathrooms, a maid's room, a family room, a balcony, a porch and a single carport. These units have a total floor area of 142 square meters and a minimum lot size of 121 square meters. 
 
Greta – these units are the mother of them all. With a Greta unit you get four bedrooms, 3 bathrooms, a maid's room, a balcony and a carport sized to accommodate two cars.
 
Camella Urdaneta, the latest Camella house and lot development in Pangasinan, welcomes you to the cleanest, greenest and safest city in the North! Camella Urdaneta is a 10-hectare Spanish-inspired house and lot development along MacArthur Highway, Barangay Anonas, Urdaneta City, designed to make life comfortable, secured and convenient. Everything is within reach from schools, public market, malls, churches, hospitals, restaurants to offices, major transportation hubs and other establishments. 
Camella Urdaneta offers the ideal affordable home with a wide selection to choose from that will suit your budget and space requirements.Around Camella Urdaneta are equally superb tourist destinations like The Minor Basilica of Our Lady of the Most Holy Rosary of Manaoag, Tayug's a-Maze-ing Sunflower Farm, Antong Falls, Lingayen Gulf, Bolinao's Patar Beach, Hundred Islands in Alaminos City, Cabongaoan Beach and Dasol's Tambobong Beach. Travel time to Baguio City has been shortened to 1 hour and 30 minutes considerably with the extension of TPLEX from Urdaneta City to Binalonan and Pozzurubio.
Camella Urdaneta is bringing you closer to a perfect weekend getaway with your family and friends! Experience cherished traditions, glorious history and cultures through colorful festivals like Talong Festival, Galicayo Festival, Bangus Festival, Dumayo Festival, Pistay Dayat, Puto Festival and Patupat Festival. Come home to Camella Urdaneta, where life is made easier and enjoyable!
Camella Homes Camella Urdaneta in Brgy. Anonas, Urdaneta City, Pangasinan, Philippines is a premier House & Lot project available for sale. If you're looking to rent or purchase Camella Urdaneta, then check here first. We have full details of Camella Urdaneta updated regularly as well as everything you need to know about the availing and booking process, broken down into stages that includes selecting a unit, choosing a payment plan and buying your dream home at the right price. For price list, free site tripping, personalized service, model house, unit plans, floor plans, payment terms, CHAT LIVE with an agent 24×7. We are Remax Perfect Homes. Always buy from PRC licensed Real Estate Brokers and Agents only.
Camella Urdaneta – Location & Vicinity
Camella Urdaneta is located at Brgy. Anonas, Urdaneta City, Pangasinan.
The Camella Homes Urdaneta can be found in Brgy. Anonas in Urdaneta City in Panagasinan. The residential community can be found along the National highway and is just 1.5 KM away from the TPLEX Urdaneta. It is also ideally located just 2KM from City Proper. 
You can get to the residences via bus from the Cubao Terminal. Here you would take a bus that is going to Baguio City, Laoag City or Dagupan City. Buses going into any of these cities will pass the residence via the National Highway. The development is located just 2KM away from the main intersection of Urdaneta City where you find the Carabao Statue. 
By private transport you can get to the residences by taking NLEX to SCTEX to TPLEX and then exit into Urdaneta City. You will find the development just 1.5km after taking the left turn. 
From this residence you can find convenience all around. You will be within close proximity to public markets, malls, schools, hospitals, restaurants, churches, offices and a number of major transportation hubs. 
The location for the Camella Homes Urdaneta was carefully selected and planned. The location is nothing short of excellent and will offer homeowners a lot of conveniences to meeting their needs. The location is prime, giving residents hassle free commute to a number of schools close by. You will find institutions of all levels within close proximity and commute to meet the needs of your children no matter what age they are. Universities close by include the Urdaneta City University, the Pangasinan State University Urdaneta Campus, The Phinma University of Pangasinan Urdaneta Campus, the Lyceum Northwestern Urdaneta Campus, the Pangasinan Colleges of Science and Technology and the International College of Excellence. 
The community is located close to a number of places of worship, hospitals and health centers. Places of worship provide a place where you and your family can go and be a part of a community while expressing gratitude for life. The many options within close proximity offers a place where people can find acceptance, unity and peace while remaining resilient and strong in their faith. One of the closest places of worship is the Immaculate Concepcion Cathedral. The residential development is located close to the Sacred Heart Hospital as well. 
The residences here are situated close to a number of malls and lifestyle centers which are great avenues for weekend reunions with friends and family alike. You will find the CB Mall close by as well as the Magic Mall Urdaneta, the Bagsakan Urdaneta Public Market and the SM City Urdaneta. The Urdaneta City Sports Cultural Complex is another recreational place that is within close proximity to the residential development of Camella Homes Urdaneta. Onsite there are number of places that are integrated with the residential community. These include office buildings and other commerce opportunities. 

Other things to do around the community includes visiting places like:
The Minor Basilica of Our Lady of the Most Holy Rosary of Manaoag
Antong Falls
Tayug's a-Maze-ing Sunflower Farm
Lingayen Gulf
Bolinao's Patar Beach
Dasol's Tambobong Beach 
Cabongaoan Beach  
Hundred Islands in Alaminos City

You can look forward to many active weekends living here with many festivals and traditions that take place close by. These include:
Dumayo Festival 
Talong Festival 
Pistay Dayat
Puto Festival 
Galicayo Festival 
Patupat Festival 
Bangus Festival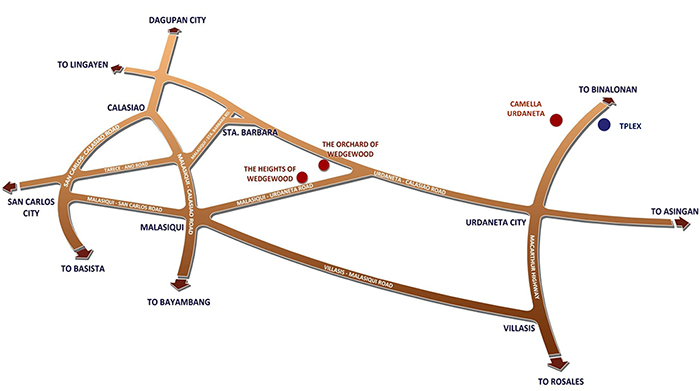 Camella Urdaneta – Features & Amenities
The Camella Home Urdaneta development was made with the aim of making your life easier and more enjoyable. The residence features the usual amenities and then some. Onsite you can find a clubhouse, basketball court, children's playground and a pool. There are also jogging paths along with landscaped gardens and parks for those who love the outdoors and who like to remain active in the outdoors. 
You can feel comfortable with 24/7 security and you are ok without a private vehicle thanks to the shuttle service. The entrance is always guard and the gates feature full time CCTV camera. The property is complete with high perimeter fences and there are always roving security guards in addition to those manning the gate. With this much security on the property you can feel safe along with your family members and friends. We understand that security is a big issue as we are living in a scary world. We understand that you want your children and loved ones to be always safe and Vista helps to provide just that here at Camella Homes Urdaneta. 
The residential units are located approximately 300 meters from the bypass road. Vista Land in acquiring land for the residential development acquired additional land for commercial development. This means there will be more facilities within the community as development progresses. This means more conveniences for homeowners and potential home owners thinking of making this their next home. 
Camella offers a modern and sophisticated set of amenities and facilities here that are built to last. The community here is designed to help you and your family form a bond that will last a lifetime. You will love the convenience, comfort and security you get waking up here each and every day. With a range of modern and sophisticated facilities you are certain to create a life of adventure and comfort here at Camella Home Urdaneta. Our luscious community is well maintained and is all you and your family could ever ask for.
Camella Urdaneta – Price List
UNIT DETAILS
Unit Type
Price
Area(sq.m.)
Notes
Reva
₱ 1,894,000
Floor Area: 40 sqm / Lot Area: 63 sqm
Mika
₱ 1,996,000
Floor Area: 46 sqm / Lot Area: 63 sqm
Cara
₱ 3,249,000
Floor Area: 66 sqm / Lot Area: 110 sqm
Dana
₱ 3,968,000
Floor Area: 85 sqm / Lot Area: 110 sqm
Ella
₱ 4,287,000
Floor Area: 100 sqm / Lot Area: 110 sqm
Freya
₱ 5,292,000
Floor Area: 142 sqm / Lot Area: 121 sqm
Greta
₱ 6,129,000
Floor Area: 166 sqm / Lot Area: 143 sqm
Camella Urdaneta – Payment Option
For many people, it's the biggest financial transaction they'll ever make. That's why doing it right the first time is so important. Sometimes, buying a real estate property can feel like a dizzying set of rules and regulations. Luckily, armed with the right knowledge and know-how, you can start realizing your homeowner dreams the fast, easy, way.
Our team has a shared passion in real estate and a relentless attention to detail that is essential in the real estate business, which has set us above the fray in the real estate communities. This unparalleled passion, combined with our expertise, ensures that your interests are well-represented.

+917436874978

  +33757130360